A ruler foot is essential for using rulers safely around the needle of your machine. The high edge keeps the ruler away from under the needle.
While more and more brands of sewing machine now have or are developing ruler feet for their machines, we also carry the Westalee brand of ruler feet in all shank types for machines that don't have a readily available ruler foot. The foot also comes with a basic ruler that is perfect for getting started with Amy's Craftsy classes on ruler work.
As a Janome dealer, we also carry the Janome Convertible Foot Set in all versions as well as the Frame Quilting Foot Set that makes up the Janome ruler foot combination. It's the first ruler foot made for sewing machines and one of Amy's favorites. (Her favorite ruler foot is a new one by Janome for the MC15000.)
Not sure what shank type you need? Read on....
If you do not know what shank your machine is, all you need to do is lower your foot and then measure the height of the center of the hole for the screw from the needle plate. We offer 4 Different Foot styles and 2 different thicknesses of templates for Domestic machines based on shank height.
Please always indicate machine make and model so we can confirm we are sending you the correct foot.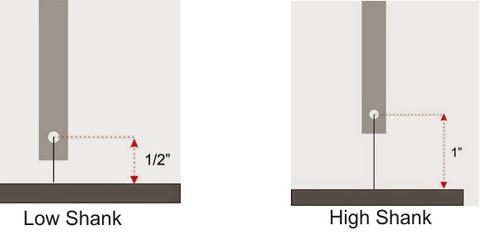 There are some machines who require a different version:
Westalee
Medium Shank
Ruler Foot: for a selection of Pfaff Machines that have a Dynamic Setting: Creative Sensation Pro, Creative Sensation, Creative Vision, Creative Performance, Creative 4.5, 4.0, 3.0, 2.0, Performance 5.0, Quilt Expression 4.2, 4.0, Expression 3.5, 3.2, 3.0, 2.0, Expression 150.

Other Pfaff models use the Low Shank Foot.

Westalee High Shank Special Foot:
This is for high speed straight stitch only machines for the most part. Another option for these machines is the same foot used for the Janome 1600P.
Pfaff 1200 Grand Quilter, Husqvarna Mega Quilter, Brother PQ1300 PQ1300 PQ1500S, Janome 1600P 1600P-DB 1600-QC, Singer 2OU 31-15, Babylock BLQP BL500A, JUKI DDL-227 DDL-555 DDL-8700 TL-98E TL-98P TL-98QE TL2000Qi TL2010.
Ruler feet from Westalee and Janome are not compatible with slant shank machines.